Please follow this page on Power Lab Seminars which are on Thursdays (at 15:40 in Ayaslı Research Center). We host industrial speakers and academic speakers in alternating weeks. Everyone is welcomed, no registration is necessary. Seminars are announced in PowerLab mail-list.You can either apply the mail-list or contact Murat Göl or Ozan Keysan, if you would like to get your email included on the announcement list.
Upcoming Seminars
Keep in touch for upcoming seminars!
Past Seminars
(22/12/2017) 

Part I: GaN Power Transistors: Modeling and Application (16:00 – 16:30) Furkan Karakaya

What is Power Transistor and what is their difference?
Critical Parameters for Power Transistors
New Power Transistors: GaN
Advantages of GaN over classical transistors
State-Trajectory Method to analyze device characteristic

Part II: Research Opportunities for Undergraduate Students in Power and Energy Area (16:30 – 17:00)

Research League: A research group for undergraduate students with multi-disciplinary research opportunities (Mesut Uğur)
Being an undergraduate researcher (Melisa Sarıcı)
Research projects in power systems area(M.Erdem Sezgin )

(15/12/2017) – Türkiye Akıllı Şebekeler Yol Haritası ve 2035 Yılı Vizyonu
Konuşmacılar:
Serhat Can – ÅF Consult Türkiye Ülke Müdürü
Gökhan Tosun – ÅF Consult Akıllı Şebekeler ve Ar-Ge Yöneticisi
(08/12/2017) Doğa Ceylan – Finite Element Analysis and Optimization of an Electromagnetic Launcher-An Introduction to the Finite Element Method

-Electromagnetic Concepts: Lorentz Force, Skin Effect, Proximity Effect
-What is Electromagnetic Launcher? How does it work?
-Barrel Side and Pulse Power Supply Units
-Mechanical Problems: Containment, Recoil
-What is Contact Resistance?
-Armature Shape Optimization
(24/11/2017) Mesut Uğur – MATLAB/Simulink Çalıştayı
-MATLAB/Simulink benzetim ortamının temelleri
-Temel Simulink blokları
-Transfer fonksiyonları ile modelleme
-SimPowerSystems Toolbox temelleri
-Elektriksel elemanlar ile modelleme
-Tek ve üç faz doğrultucu örnekleri
-DC ve AC güç, RMS, THD, güç faktörü vb. hesaplama
-Frekans bölgesi analizi
Sunum Özeti: ASELSAN-UGES'te güç elektroniğinde devam eden çalışmalar ve ürün geliştirme süreci hakkında özet bilgi verilecektir. Orta ölçekli bir rüzgar türbini uygulaması için geliştirilmekte olan güç dönüştürücüsü hakkında bilgilendirime yapılacaktır.
Wind Turbine Systems and the Design of a Wind Turbine Generator
-Overview of Wind Energy
-Drive Train Configurations
-Design Steps of Wind Turbine Generators
-Company information
-DIgSILENT PowerFactory-
Power system analysis software
-Modelling and Simulation
-R&D projects
(27/10/2017) Erdi Saruhan, METU  (15:00)
-Overview of load forecasting
-Why is it important?
-Load forecasting methods
-An overview of Production, Transmission and Distribution of Electricity in Turkey
-A brief introduction of Enerjisa-What is the responsibility of an electrical distribution company?
-What are the duties of a network management engineer? (relay coordination, fault simulation, etc.)
(13/10/2017) Ozan Keysan & Murat Göl (15:00)
 PowerLab – 101: With Brief Introduction of USTDA – METU Smart Campus Project & EnerjiSA – Micro Grid Project
(13/10/2017) Erencan Duymaz (15:30)
Frequency Support Mechanisms in Electricity Grid and Wind Turbine Applications

---

Industry 4.0 integrates information science with manufacturing technology, as a result efficiency and reliability can be increased significantly. One of the important aspects of the industry 4.0 is the transformation of disciplines and sectors as a whole. As a result, it is expected that system behavior, capability and solutions are expected to become more popular in the coming years.
In this seminar, the effect of this new industrial revolution on the mechatronics systems applications will be presented. In particular, new trends in controllers, electric motors and motor drives of these mechatronics systems will be presented.

-Emek Electrical Industry&Emek R&D General Advertisement

-Current&Voltage Transformer Developments

-Smart Disconnecting Switches

Opportunities and Trends in Electric Motor Drives (28/04/2017) ANDAR Electromechanical Systems

Summary: ANDAR is an innovative METU Technopark company working specifically on servo actuators and electric drive systems for the defense industry. The company has been setup in 2012 and developing its own solutions since then.
The speakers, who are co-founders of the company, will give a talk on their journey as entrepreneurs and difficulties of building a business model based on technical know-how. Finally, they will talk about the latest trends and opportunities in high-performance electric motor drive system applications in avionics and defense industry. The talk will give a perspective on real-world applications of electric motor drives as well as challenges on efficiency, cost, reliability and integration issues.

Electrification Trends in Automotive Technologies 

(21/04/2017) İlker Şahin/AVL

Summary: The automotive industry has been dramatically re-shaping with technological advancements in the last 10 years. A vehicle is no longer a pure mechanical device, but rather becoming an intelligent machine for mobility. Electrical and Hybrid vehicles, Advanced Driver Assistance Systems technologies and Autonomous vehicles are already on the road. All those advancements are achieved thanks to Electrical and Electronic engineers, who are taking part of the industry more and more every day. In this presentation, some of those revolutionary technologies and trends in the automotive industry will be discussed with real-world examples, that will give you a glimpse of the future that awaits you to shape.

 Industry 4.0 concept, predictive maintenance applications

 Data acquisition systems

 Design of a battery charging unit for distribution transformer stations

 Solar Cells

Mustafa Güçlü AYDINER & Yusuf ÜÇYÜZ from SIEMENS   (17/03/2017)

Computer Aided Power System Analysis

Öztürk Şahin Alemdar (25/01/2017)Abstract:In this presentation, LLC resonant converter topology will be introduced. Some practical design considerations of DC-DC converters including planar transformer implementation, secondary-side rectifier selection, primary-side MOSFET selection and control loop implementation will be reviewed. A 500kHz 200W LLC DCX module converting 360-400VDC input to 12.5-11.75VDC output will be investigated.
Ozan Keysan (29/12/2016)

Research Tools
Journal Searching

Mehmet Kaan Mutlu(22/12/2016)

Field Oriented Control Technique in PMSM control
Servo Driver and Applications
Selected Topics in Servo Drives(EMI, EMC, enviromental tests, frameless motor packaging, etc)

Bulut Ertürk(15/12/2016)

SCADA and PMU Definitions&Applications-State Estimation
Observability ve Optimal PMU Placement

Melih Var, Insulation Material Types (8/12/2016)

Gas, Liquid, Solid Insulator Types
String, Post, Hollow & Bushing
Silicone Composite Insulator Properties & Production Procedure

A. Can Yılmaz / Nordex Energy (1/12/2016)

Nordex Turkey Organisation
DFIG Generator and Converter Technology
Electrical Grid Regulation Appendix -18 (Elektrik Sebeke Yonetmeligi Ek-18)

Lüfti Boyacı

Physical properties, Comparison with Silicon based Mosfets

Advantages and Disadvantages

Gate Drive

JeanPiere Demir (10/11/2016)

Sparse Matrix Factorization (Observability Analyze)
DMS (Data Management System)-Drawing and Testing
Solar Panel Forecasting
RIoT (Ras Internet of Things) (Remote Control of the laboratories via wifi). Click for the presentation.
–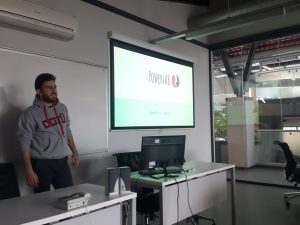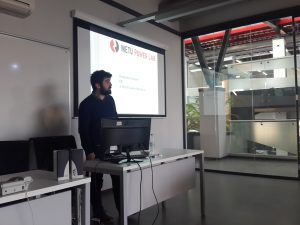 Erdem Sezgin – Stray Currents and Modeling on Traction Systems –  (03/11/2016) 

Aysel Akgemci – Power Flow Control Using D-FACTs – (03/11/2016)


Mesut Uğur, "Railway Traction Systems" (13/05/2016)

The Role of IoT and Data Science in Future Energy Grid
Distribution System Components (Contact Dr. Murat Göl for the presentation documents)

Interleaved Systems in Power Electronics
A Survey of Turkish Electricity Market, Türkiye Elektrik Piyasası'na Genel Bakış
MİLGES- Milli Güneş Enerjisi Santrali Projesi (National Solar Power Plant): Types of inverters used in the Photovoltaic systems. Latest updates on the MİLGES Project.
Voltage Stability in Power Systems
PMU Placement in Power Systems

Grid Control Systems on Distribution and Transmission Networks (İletim ve Dağıtım Şebekeleri Kontrol Sistemleri)