Ongoing Projects
ASELSAN-PARGE: Elektromanyetik Fırlatma Sisteminin Analiz ve Optimizasyonu (Analysis and Optimization of a Electromagnetic Launcher System)
ANDAR-Teknokent: Sabit Mıknatıslı Servo Motor Tasarım ve İmalatı (Design and Manufacturing of a PM servo motor)
ANDAR-Teknokent: Elektromanyetik Damper Tasarım (Design of a Eddy Current Damper)
TÜBİTAK-2232: Rüzgar Türbinleri için Hata Toleranslı ve Moduler Sabit Mıknatıslı Generatör Geliştirilmesi
TÜBİTAK – 3501: Mevcut Güç Akışı Ölçüm Cihazlarını Hesaba Katarak Belirlenmiş Artıklık Endeksine Göre Optimum Fazör Ölçüm Ünitesi Yerleştirme Metodu Geliştirilmesi (Development of an Optimum PMU Placement Method with respect to a Pre – Determined Redundancy Index Considering Installed Power Flow Measurements).
TEYDEB – 1505: Metro Ve Hafif Rayli Ulaşim Araçlari İçin Yeni Nesil Cer Çevirgeci Sistemi Geliştirilmesi Projesi.
TÜBİTAK – 1003: Alçak Gerilim Dağıtım Sistemi Verilerinin İzlenmesi Ve Kayıt Altına Alınması (Monitoring and Recording  Power and Power Quality Data of Low Voltage Distribution System).
TÜBİTAK – 3501: 7.5 kW Sabit Mıknatıslı Tümleşik Modüler Motor Sürücü Sistemi Geliştirilmesi (Development of Permanent Magnet Integrated Modular Motor Drive System)
ASELSAN-PARGE: ANALYSIS AND DESIGN OF PRECISION ACTUATORS
The main subject of this project is precise actuators, which will be used in gimbals by ASELSAN. In the project, two types of precise actuators, which are linear actuator and PCB actuator
will be analyzed and designed. These two types constitute two work packages of the project and their modelling, design, analysis and their optimization will be realized during project. Duration of
this project is planned to be 9 months. In first stages, mechanical modelling and feasibility work will be realized for linear actuator according to its electrical and mechanical requirements and then initial designs will be evaluated. In later stages, its optimization will be done to get most efficient and suitable actuator. In second half, PCB actuator will be analyzed, designed and optimized.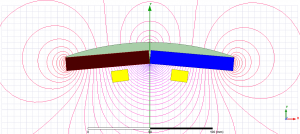 ASELSAN –PARGE: MW ÜSTÜ RÜZGÂR TÜRBİNLERİ İÇİN GENERATÖR GELİŞTİRİLMESİ FİZİBİLİTE ÇALIŞMASI (Feasibility Study of Developing MW Scale Wind Turbine Generator)
The aim of this project is to investigate the wind turbine generator technologies and to decide on the most suitable generator topology to be designed and manufactured in Turkey. The project includes the market analysis of the wind turbine sector in the world and the future projections in the industry.
As a result of the sector analysis, the most feasible technologies are technically and economically compared. In this process, the material mass and the cost of the each candidate generator
technology are estimated for preliminary designs. Preliminary design procedure includes analytical design in MATLAB, optimization using genetic algorithm and verification of the design using finite element method in MAXWELL. One of the candidate generator topologies is to be selected for the detailed design. In addition to thermal, electromagnetic and mechanical analysis of the design; the manufacturability of the design is to be discussed. In this sense, the capability of the firms in Turkey and the infrastructural requirements are investigated.

Work Packages:
Inertial Support in Wind Turbines